With Spring here, it's about time for a quick spring cleaning!
Here are our top 5 tips to help to ensure you're on your way to receiving a 5 Star Inspection!
1. Clean Your Dryer Vent:
Your tumble dryer has been working hard over the winter months and it is likely that it's in need of some attention to continue to run efficiently and safely. (Friendly reminder: Always remove lint from the lint catcher before every load)
ln addition to this general upkeep, you should thoroughly clean the dryer vent at least twice a year, as lint buildup not only makes your dryer less efficient, but it is also a fire hazard. 

To clean out the dryer vent, detach the tubing from the back of your dryer and vacuum it well or use a brush to dislodge any lint stuck inside. Finally, give your lint catcher a quick scrub with a soft brush (a clean toothbrush or scrub brush will work well) with soapy water, then rinse, air-dry completely and replace.
2. Dust Your Ceiling Fans:
Ceiling fans are notorious dust-collectors and sitting stationary for a few months in the winter really gives dust a chance to settle. Fortunately, cleaning your ceiling fan before you turn it on for the season is quick & simple!!
a. Gather dust with an extendable, microfiber duster. Pro-tip: before you start, place a sheet on the floor or over any furniture underneath the fan, to keep everything else dust-free!
b. If you are comfortable standing on a step-ladder, you can try this popular hack – place a clean pillowcase over one blade at a time and then carefully slide it off, trapping the dust inside the pillowcase. 
c. Use a dry microfiber cloth to wipe dust from other parts of the fan as well as the light bulbs or globes. If your fan has glass shades, soak them in warm, soapy water and dry completely before putting them back on.
3. Deep-Clean Your Kitchen Cabinets:
Whether your kitchen is the site of impressive culinary feats or mostly a place where you plate your takeout, this hard-working room is a prime place for dust, food, grease and fingerprints to collect. Since cabinets take up the most space, giving them a thorough clean will make the whole space feel fresh and clean! 
With Cabinets, gentle cleaning is best, so skip the abrasive products and use a solution of dish soap and warm water. First empty your cabinets and drawers. Then, using a crevice attachment, vacuum up crumbs and debris. Next, wet a soft cloth with the soap and water solution and wring it out until it is just damp. Wipe down the inside and outside of the cabinets, as well as handles or knobs. Follow with a cloth slightly dampened with plain water to rinse and then dry thoroughly with another soft cloth.

*For glass cabinet fronts, use a glass cleaner*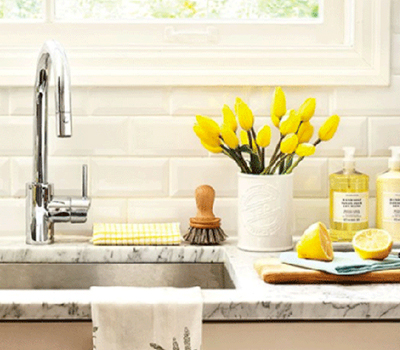 4. Clean Your Small Appliances: 
All of your kitchen appliances work hard on a regular basis and even the smaller appliances, such as your toaster and hand mixer, can benefit from a seasonal cleaning. To banish dried-on batter, pasta sauce or from your hand mixer and blender base, unplug your appliances, then wipe the outside of your appliance until clean with a damp cloth. Don't forget to wipe the cords as well, since they can also trap splatters of food.
5. Tidy Up Your Loo!
Our showers, sinks and toilets take a real hit over time when they are not cleaned properly. Here are some simple steps to keep your space tidy:
a. To clean your shower or bath-tub, use a soap-scum remover, hot water, and a scrub brush to loosen soap scum and remove any stains. You can use a toothbrush to get in the smaller crevices, corners and drain in your shower. Use a plastic cup or bowl filled with warm water to rinse away the dirt and soap from your shower or bath-tub. 
b. To clean your toilet (we hope you don't need a 'how-to' for cleaning the inside of a toilet), use a disinfectant spray and paper towels (easy to throw away) to wipe the back and the base of the toilet, including the floor around the toilet. Using a clean cloth and disinfectant spray or clorox wipe, clean the lever, toilet lid, seat of the toilet, underneath the seat and the rim. 
c. To clean your sink, use warm water and soap scum remover together to loosen toothpaste and soap stains. Use a toothbrush to clean around the base of the faucet and drain. Rinse away all the soap scum and grime. Wipe the counter and surface around your sink. Voila! You can now enjoy your sparkling clean bathroom!
With these helpful cleaning tips, you and your family are sure to enjoy your spruced up space!